The COVID-19 pandemic forced many businesses to transition online in a short period in 2020. As more employees find themselves back in the office, employers and managers are trying to balance hybridized work environments between in-person and remote employees. Nearly 63% of high-growth organizations have some form of hybrid work structure, and statistics show a remote schedule comes with numerous positives.
So, what are the benefits of having a remote or hybridized work culture for your business? Are there downsides? What can leaders do to ensure their in-person and remote employees meet expectations and still engage with their assigned work? In this article, we will explore each of these questions and provide some tips you can use to foster a positive hybrid work culture.
What is a Remote Work Culture?
Building and sustaining a positive remote work culture is necessary for many organizations today. Many companies have prioritized structuring and refining a remote work environment for their employees because of the different complications influenced by the COVID-19 epidemic. Experts believe many businesses will choose to retain a significant part of their remote workforce over the next few years. If your employees are working remotely, either full or part-time, keeping them engaged and included is essential, especially if you have other employees working in person.
The Challenges of Remote Work
Structure
Maintaining a consistent remote work structure for your employees is essential to your company's success and your employee's value and efficiency. Working from home can be beneficial — decreasing absenteeism, increasing productivity and creativity, and catering to those who prefer or work more efficiently in the comfort of home. If your business lacks a straightforward and structured schedule, your employees may find it harder to remain as productive as they would be in the office. Structuring and supervision is critical for remote workers.
Platform Hunting
With remote work environments, companies have to find ways to digitize and organize everything online. Information may have once been centralized; now, it is subject to confusion and misinterpretation as employees often take it in alone. Finding project management platforms like Asana or Monday.com that will schedule tasks and make group messaging accessible is one of the first steps to upholding your company's work ethic.
Work/Life Balance
The experience of working at home can often blur the line between work and personal life for your employees. Although it may not impact productivity, remote work may threaten collaboration and communication if left unattended for too long. Actively engaging with your employees and keeping an open line of communication is vital to separating work life and private life for your remote employees. Dedicating a communication channel to something casual, like pet photos or music releases, can keep your employees engaged.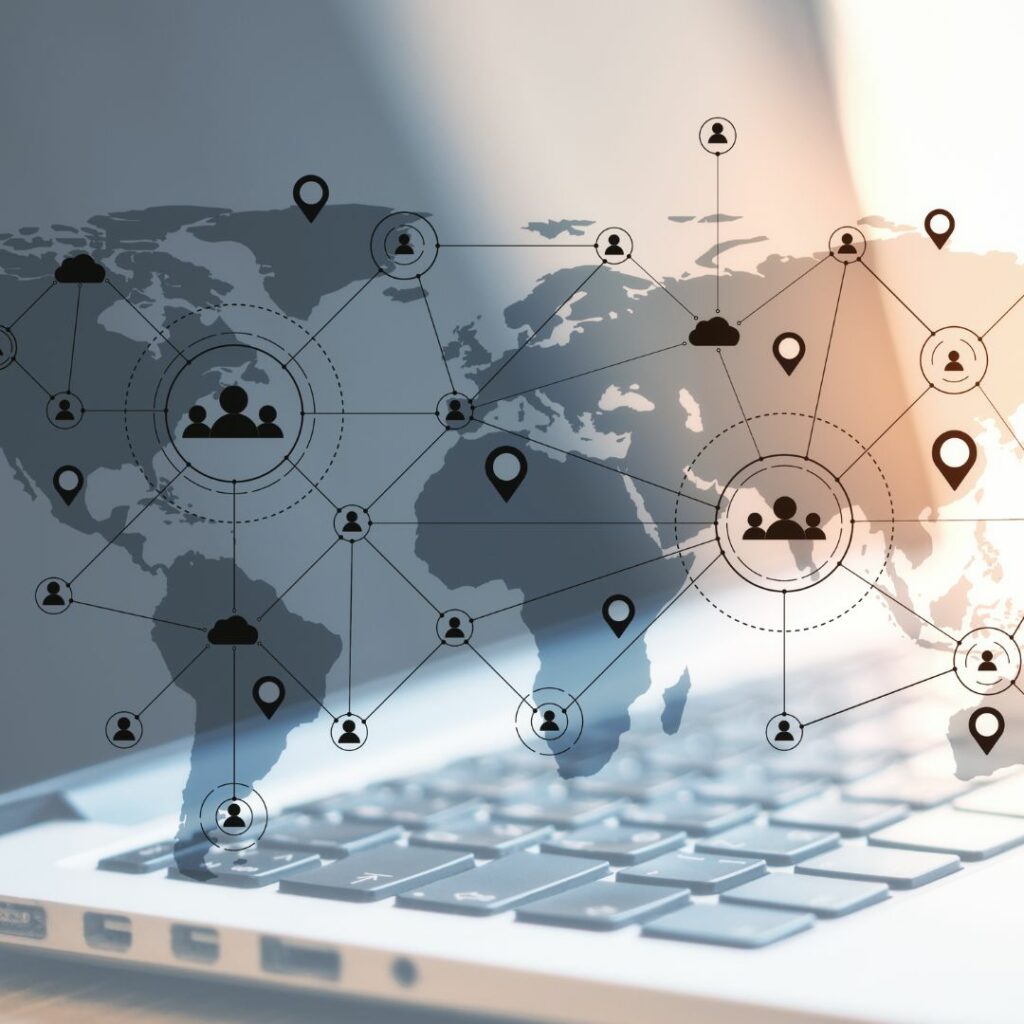 Photo: via Canva.com
Ensuring your Hybrid Work Environment Remains Effective
Although complications may accompany remote work, the transition to online work has yielded plenty of positive outcomes, too. For example, employees often believe that hybrid arrangements improve their well-being and productivity. Likewise, remote or hybrid work allows employees to work in the ways they find most effective — and that produces the best results for companies. Here are some ways to encourage a cohesive and empowering environment for your remote or in-person employees.
Prioritize Onboarding and Training
Starting a new job used to involve doing rounds in the office to introduce yourself or to find where the coffee maker was. However, onboarding can be intimidating for those beginning a remote position and, when done poorly, may affect retention. Communication platforms will also prove to be one of the most essential assets of hybrid work environments. As new employees start their position, you should have opportunities for them to reach out with any questions and designated training times with existing workers.
Conduct Regular Check-Ins
According to the Harvard Business Review, 46% of remote workers stated the best managers are the ones who frequently check in with their employees. Employees want to know they are still being supported and supervised, even if they are not on site. Even small actions such as daily memos over email will make your employees feel more included and boost productivity.
Encourage Collaboration and Communication
Although it is challenging to ensure that employees feel included at all times, some strategies are worth implementing to support your business's collaboration and communication. These include:
Using communication channels dedicated to individual projects.
Including coworkers in appropriate and relevant email chains.
Making team priorities visible and accessible.
Straightforward communication is the most effective way to build your team's foundation. It will also foster a sense of community for your employees, either remote or in-person, and encourage them to work together on various projects. Video chat programs like Google Meet and Zoom are excellent for face-to-face meetings, and other programs like Slack and Google Hangouts work well for instant messaging.
A high-performing and successful team depends on the culture your company cultivates, the hybrid work environment you offer, and the relationships you build and maintain. To retain the most talented employees, you must offer them something they won't find anywhere else. If you have questions about maintaining a positive hybrid work environment or need help implementing any of the tips above, visit our contact page or sign up for our newsletter today!