Ecommerce brands know that Q4, specifically the end of November through Christmas, can make or break their year. The 4th quarter can represent over 50% of annual revenue for commerce-focused companies and retail brands. Even if you're not an eCommerce brand, a specific digital marketing strategy for Q4 is crucial for capitalizing on your market's end-of-year trends and positioning your company for success in 2023.
Our tip of the month for September 2022 is:
Finalize your Q4 2022 strategy as early in the month as possible, leaving time to implement it at the start of October.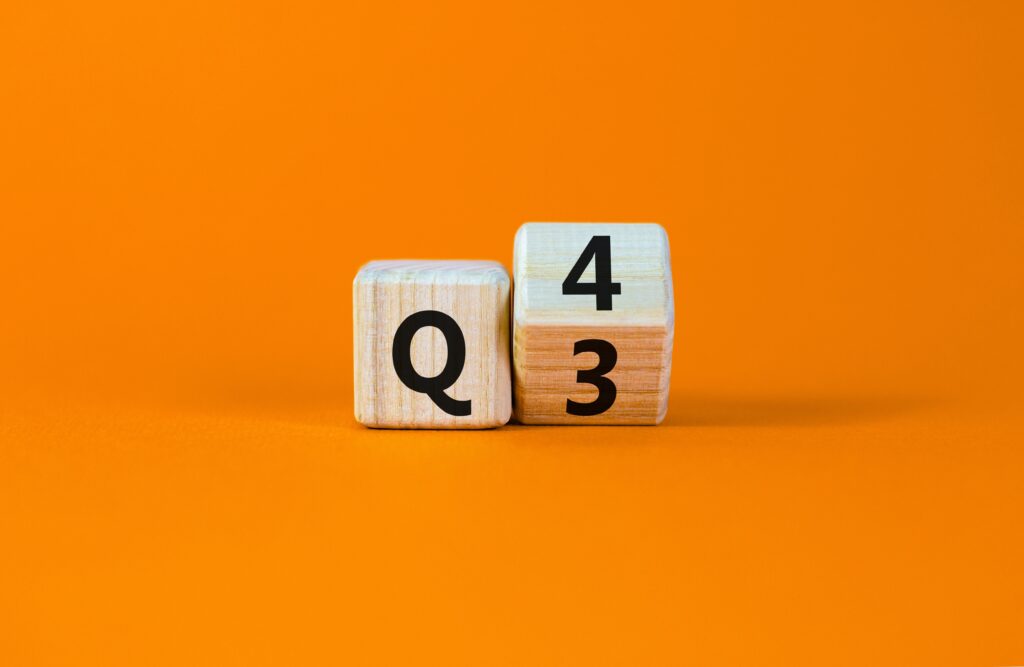 Here are some tips on what your digital strategy should include:
Target market and messaging – It's essential to break through the noise of Q4 with a strong message. Think critically about how to grab your target market's attention and provide them with value to build trust.
Ad campaigns and spend – even if you aren't in retail, you can compete during Q4 with ad campaigns. Your ad budgets can go far when you're targeting niche audiences who are your most valuable prospects.
Social media and content development – Fall and winter are essential social media and content seasons. Proximity to the holidays means users will look for new things to do and purchase. Current and new customers will want to hear from you more than ever– don't leave them hanging!
This core tenet of marketing strategy is vital for Q4. Set aside some advertising budget to test new creatives and messaging that can help you communicate with your audience. Then analyze the collected data, and prepare for your 2023 marketing plan.
Below are reminders of what to consider within specific industries when developing your Q4 2022 marketing strategy.
B2B
Target customers are locking in their budgets for 2023 during Q4, making it a crucial time to get your message in front of them. Be sure they have your product or service penned in as a part of their 2023 plan.
Healthcare
Patients are looking to get their yearly check-ups and will be close to hitting their insurance premiums before 2023. Be sure to tailor your messaging and run consistent and optimized ad campaigns before the end of the year.
Home Services
Content (particularly blog articles) is always a robust strategy, even more so during Q4. Year's end is when prospective customers actively seek information on improving their homes and what to do in a mid-holiday crisis.
Financial and Legal Services
Potential customers look for your services year-round, depending on their financial or legal situation, and Q4 is an excellent time to be aggressive. Even though the focus on retail during Q4 may seem daunting, solidifying yourself as an authority in the industry means developing content and hosting events during this period. This strategy will bear fruit since the financial market is frequently changing, and many users are looking for information and professionals they can trust.
Tourism
Whether traveling home for the holidays or embarking on an exciting vacation, Q4 is a crucial travel time for consumers. Make sure you're standing out from the crowd with tailored specials to get in new or existing customers and offer unique activities to grab users' attention.
Education
Parents and students use the time off during Q4 to research and decide the next steps in their educational journeys, so plan for media spend and engaging content during this time.
Real Estate
Q4 can be slow for real estate sales or apartment leases, depending on the specificities of your market, but that doesn't mean you should shut down your marketing for the winter. Digital marketing is an "always-on" strategy, and Q4 is an opportunity to build brand awareness and engagement through social media and content development. Stay ahead of the competition in Q4, and use the time to make necessary foundational updates to your website and marketing automation.
Local Stores and Services
Similar to eCommerce (depending on your product or service focus), Q4 and the holidays may be a big piece of your yearly revenue. Because of this, ensure you're running large advertising campaigns, communicating with your target market, and running unique offers where possible.
Ecommerce
Q4 is BIG, so we're sure your plan is already in place. But don't forget to look at the entire customer journey since getting users from awareness to conversion as fast as possible is the goal. Set some budget aside for testing, and don't be too quick to make significant changes based on only a few days worth of data; these short timeframes might not be actual trends upon which to expand.
That was your digital marketing tip of the month for September 2022. Don't wait! – Get started on your Q4 2022 strategy now if you haven't already. Let us know if we missed your industry above, and email us for tailored recommendations.
Looking to drive value from Google Ads for your business?